CRHS: Baseball and Softball are cancelled for tonight due to the rain.

Due to bus driver availability at Stover, the start time for baseball here tonight at Crest Ridge will be 5:30pm. Thank goodness we have lights!

CRHS: Softball and Baseball today 3/17 have been postponed. Baseball will play Stover on Monday 3/20 and softball will play Green Ridge on 5/3 both will be home games.

CR MS & HS Families: you are invited to parent teacher conferences on 3/20 from 4-8. See the attached flyer for additional information.
https://5il.co/1qyvt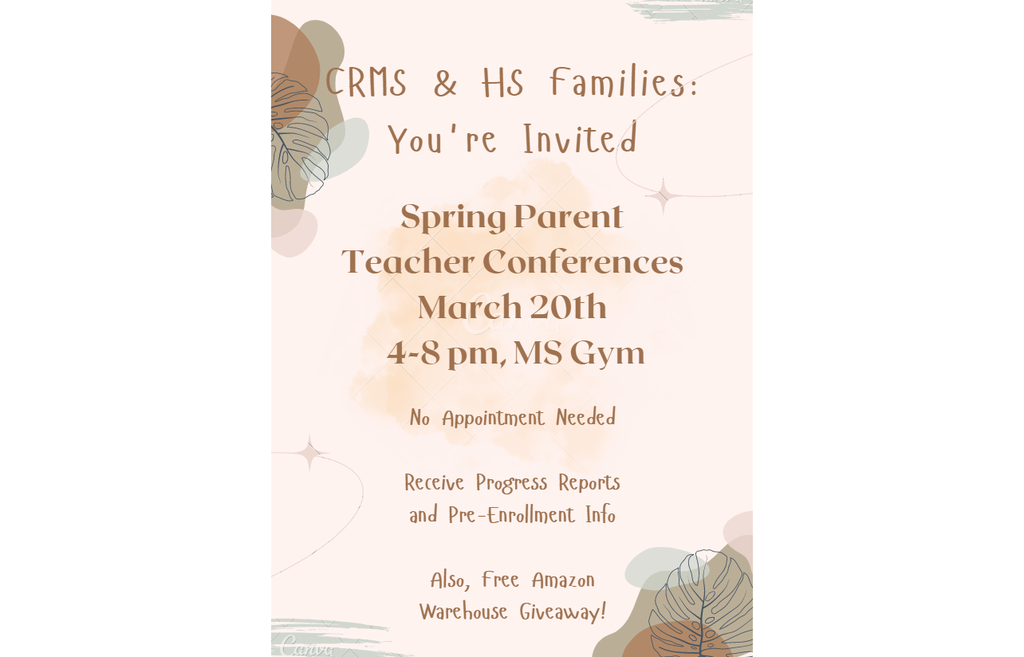 Wednesday Newsletter on Thursday, 3/16/2023 ***Spring Pictures, 3/30/2023. MUST PRE-ORDER by 3/29, 11:59pm Order online: inter-state.com/order Use order code 76409EB ***World's Famous Chocolate fundraiser has begun! Last day to check out chocolate: 3/28. Last day to turn in money: 3/30. Read attached flyer for more information.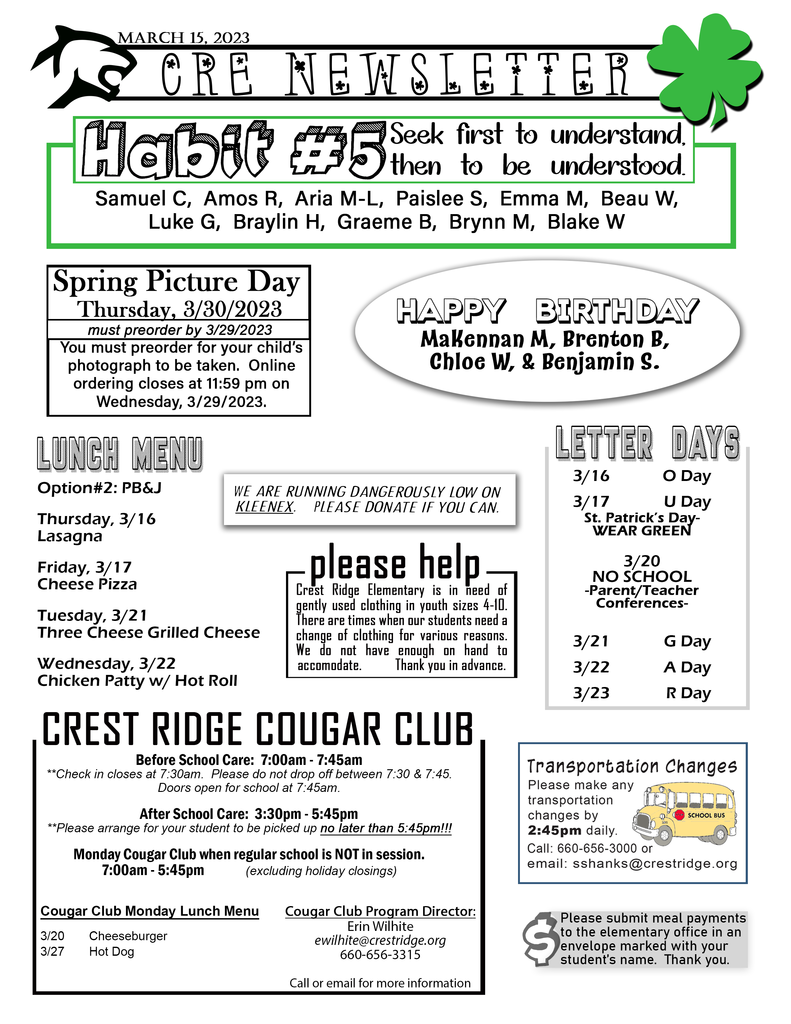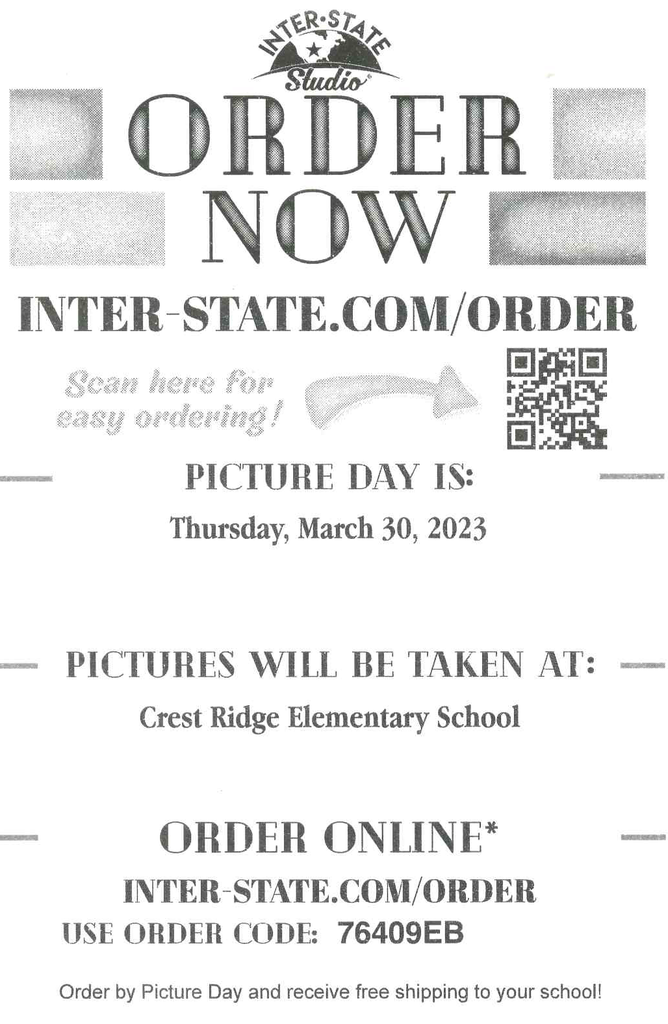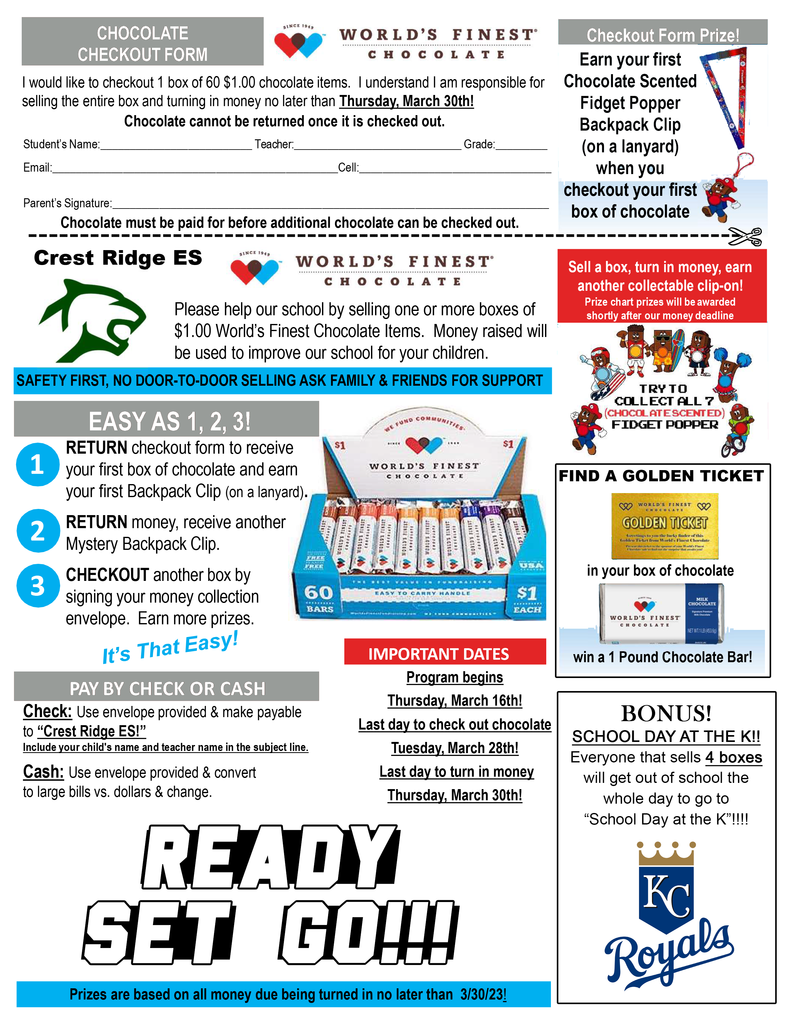 For a limited time only - student recognition space is available in the secondary yearbook! Inquiries should be directed to
yearbook@crestridge.org
.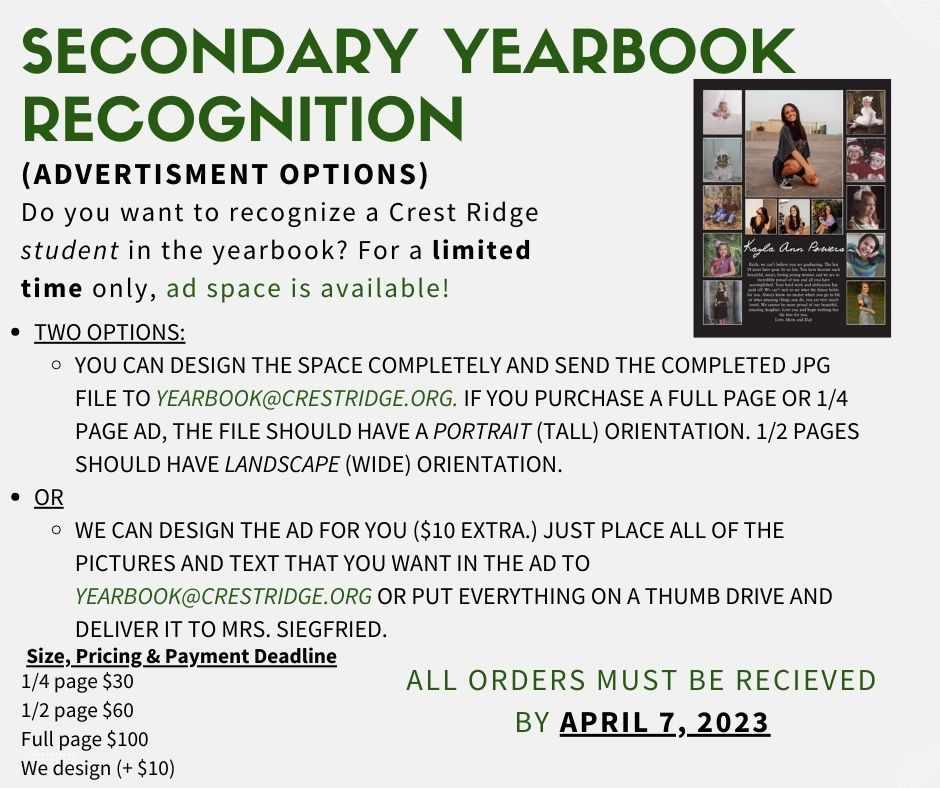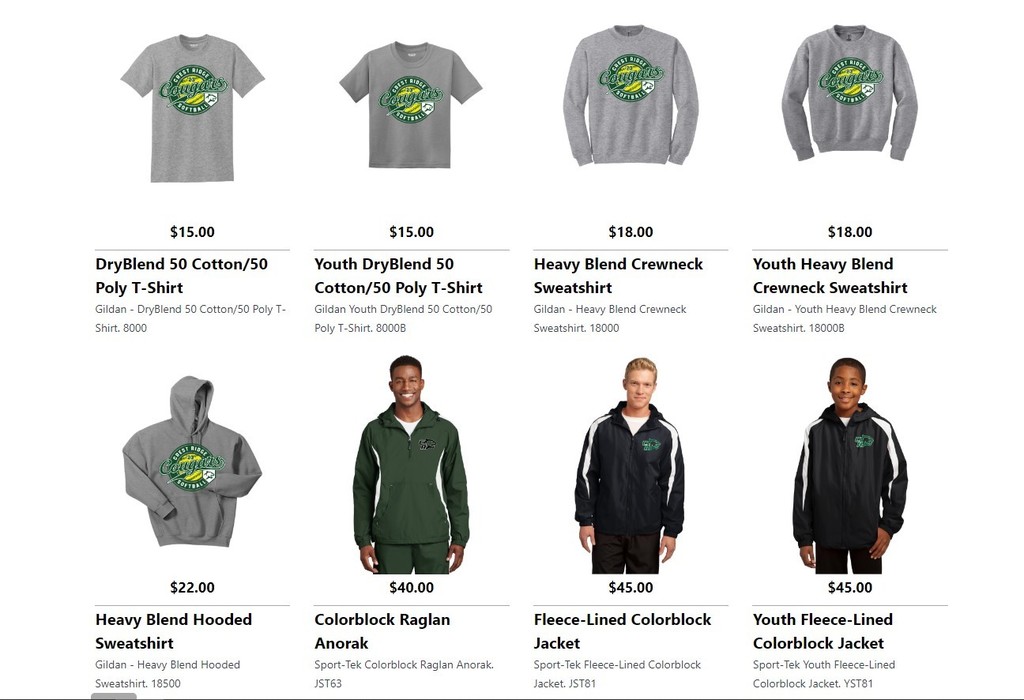 CR MS & HS Families: you are invited to parent teacher conferences on 3/20 from 4-8. See the attached flyer for additional information.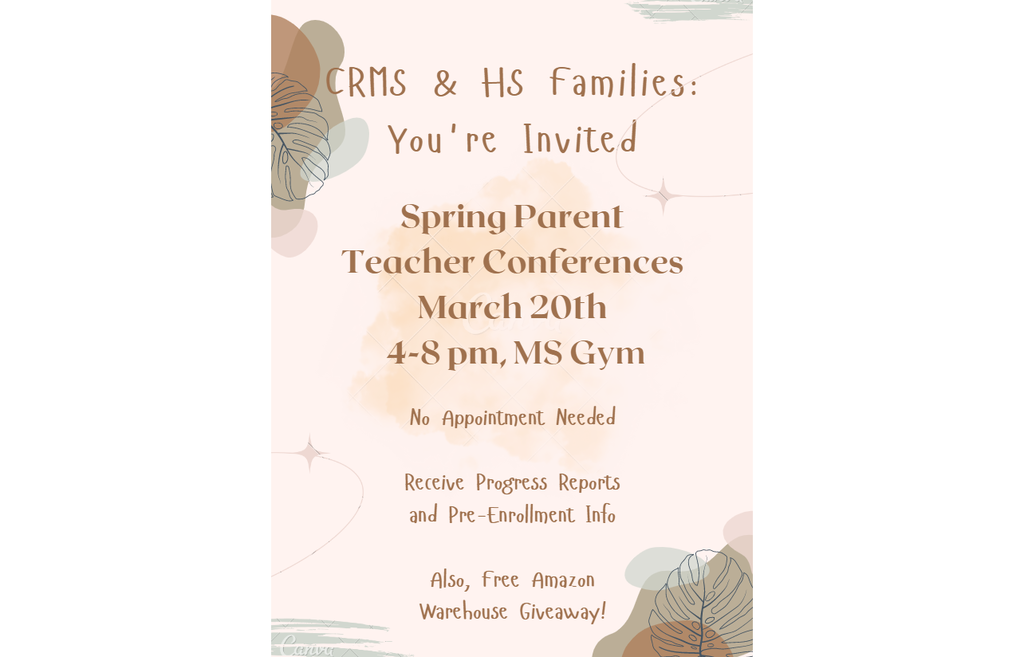 Congratulations to the 7th and 8th grade band members who participated in the 2023 Central Methodist University Music Fest. The following awards were earned for solos and small ensembles: Exemplary (An exemplary performance that consistently demonstrates true musical expression and few technical errors. The performance is worthy of the distinction of being recognized as among the very best.) -Cora Wilcox (8) - Baritone Solo -Edana Wingard, Ella Hammond and Addison Counts (8) - Woodwind Trio -Edana Wingard (8) - Flute Solo -Haylie Martens (8) - Flute Solo -Denna Martin (7) - Flute Solo -Sophia Bartlett (7) - Flute Solo Outstanding (An outstanding performance of distinctive quality yet has minor defects in musical expressions and fundamental techniques.) -Addison Counts (8) - Clarinet Solo -Layla Chambers (7) - Clarinet Solo -Adilynn Bicknell (7) - Clarinet Solo -Hailey Akin and Layla Chambers (7) - Clarinet Duet -Denna Martin and Adilynn Bicknell (7) - Woodwind Duet Satisfactory (A satisfactory performance showing accomplishment and marked promise, but lacking consistency of musical expression and fundamental technique.) -Cora Wilcox, Baylee Bunn and Hailey Ridge (8) - Mixed Trio -Brennan Duffy and Calypso Odle (7) - Brass Duet This is the first year middle school students have competed in solo and small ensembles. The students did a fantastic job!! Way to represent Crest Ridge!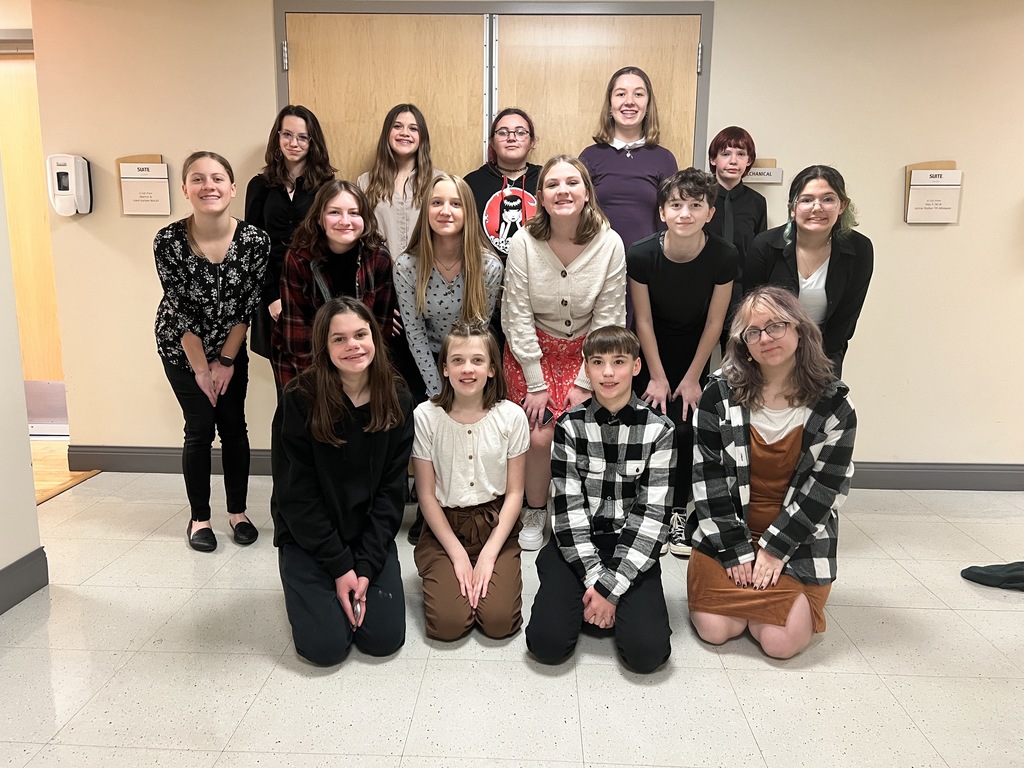 Congratulations to the Crest Ridge Speech Team for their success at the District competition today! Aidan Smith made it to finals and took 6th place in Radio. Kayenne Campbell also made it to finals and got 5th place in U.S. Extemporaneous Speaking. Kiley Cunningham performed her Prose piece and Max McCullough participated in International Extemporaneous Speaking. We are so proud of them! Our Speech Team is small, but mighty, and the Crest Ridge community should be proud of how they represented our district this season! Interested in joining the Speech Team? Come see us at the Activity Fair this spring for more info.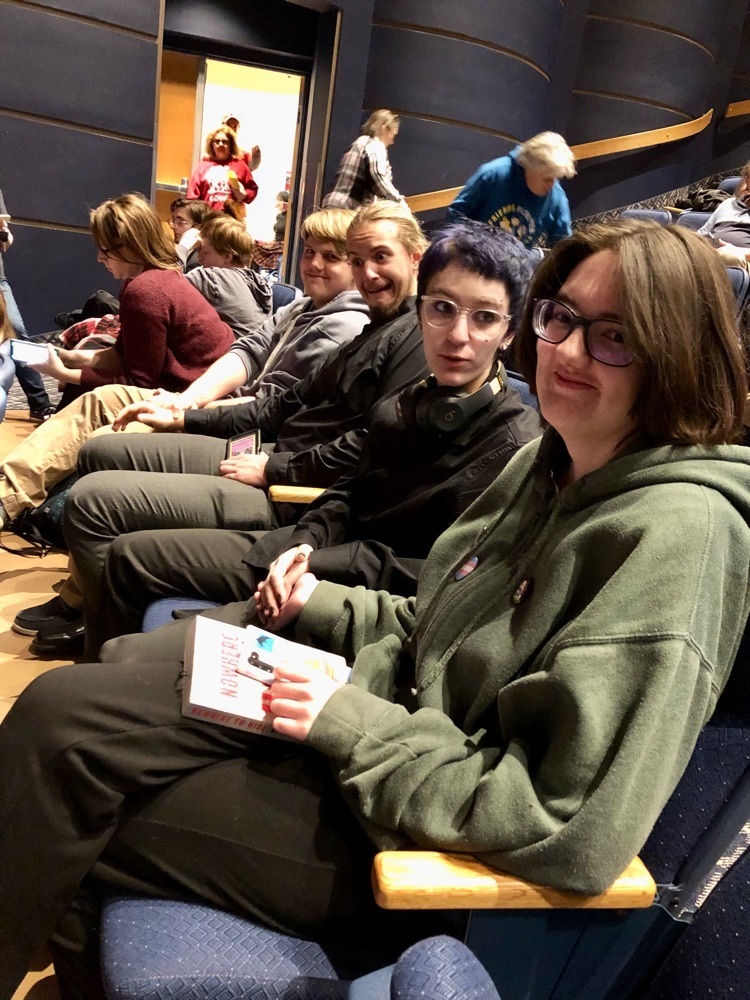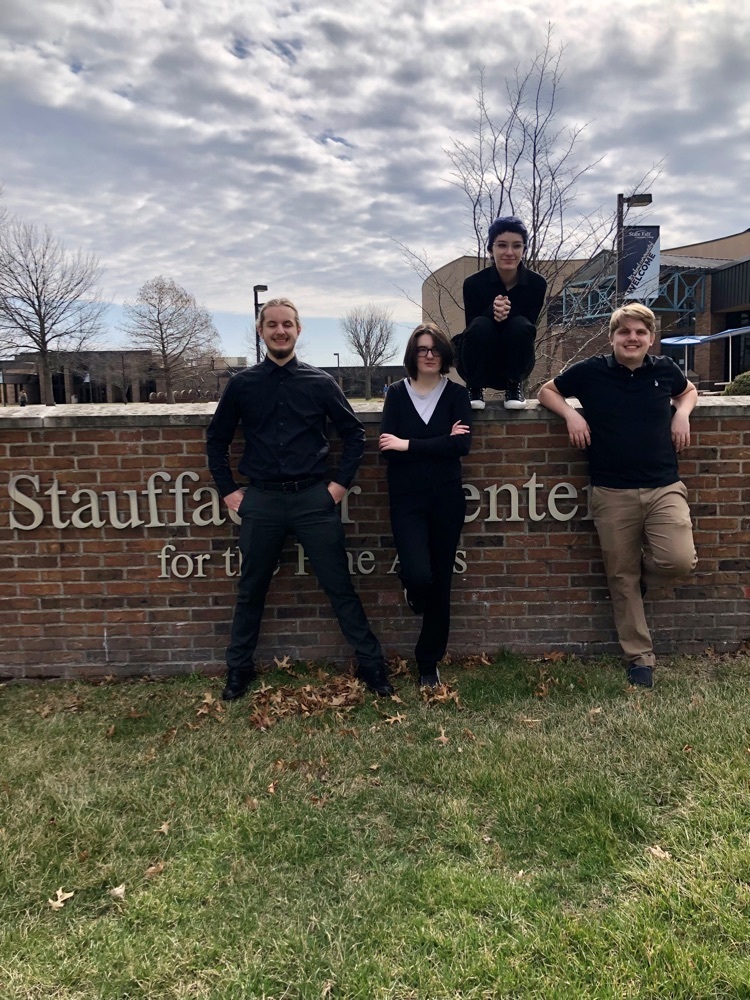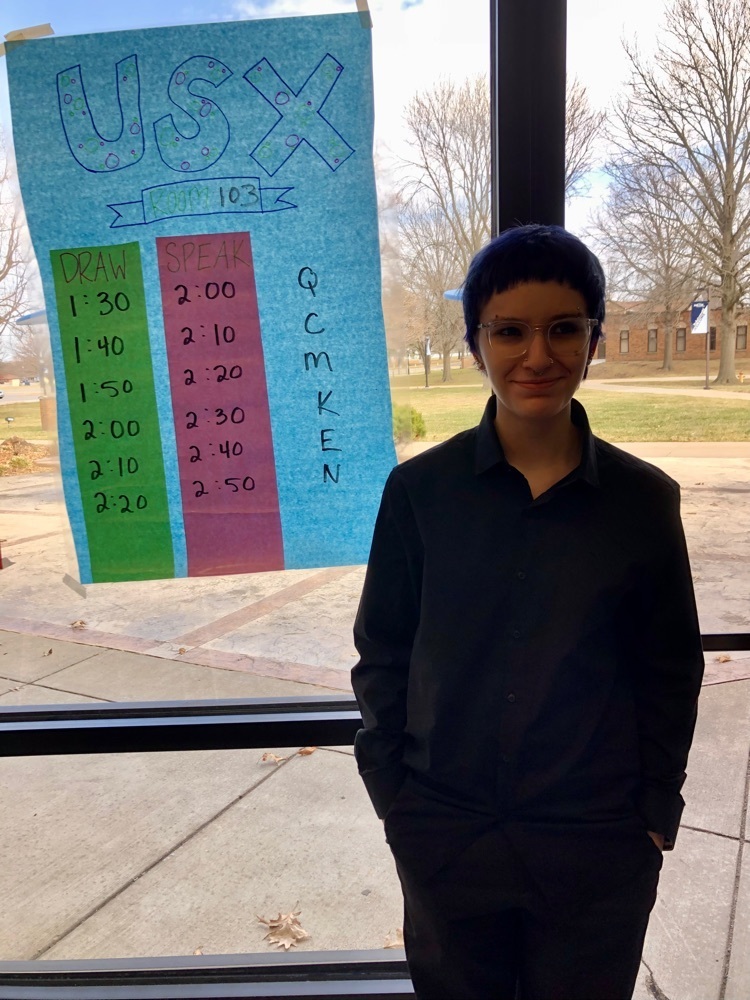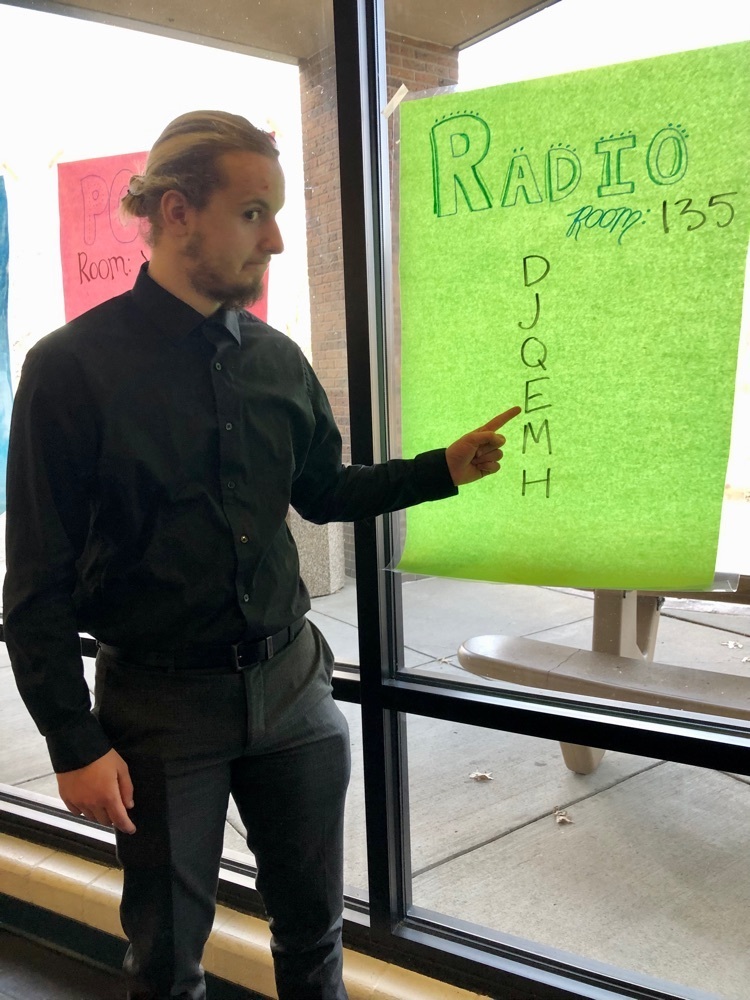 CRE Newsletter 3/1/2023 March: National Reading Month! 3/2 Dr. Seuss Day. 3/2 & 3/3 Photo Booth, $1. Return $ with attached permission form. (hard copies sent home in Wednesday envelopes today) We're getting low on Kleenex! Please consider donating a box or two. Also taking donations of gently used clothing, youth sizes 4-10. Spring Break next week!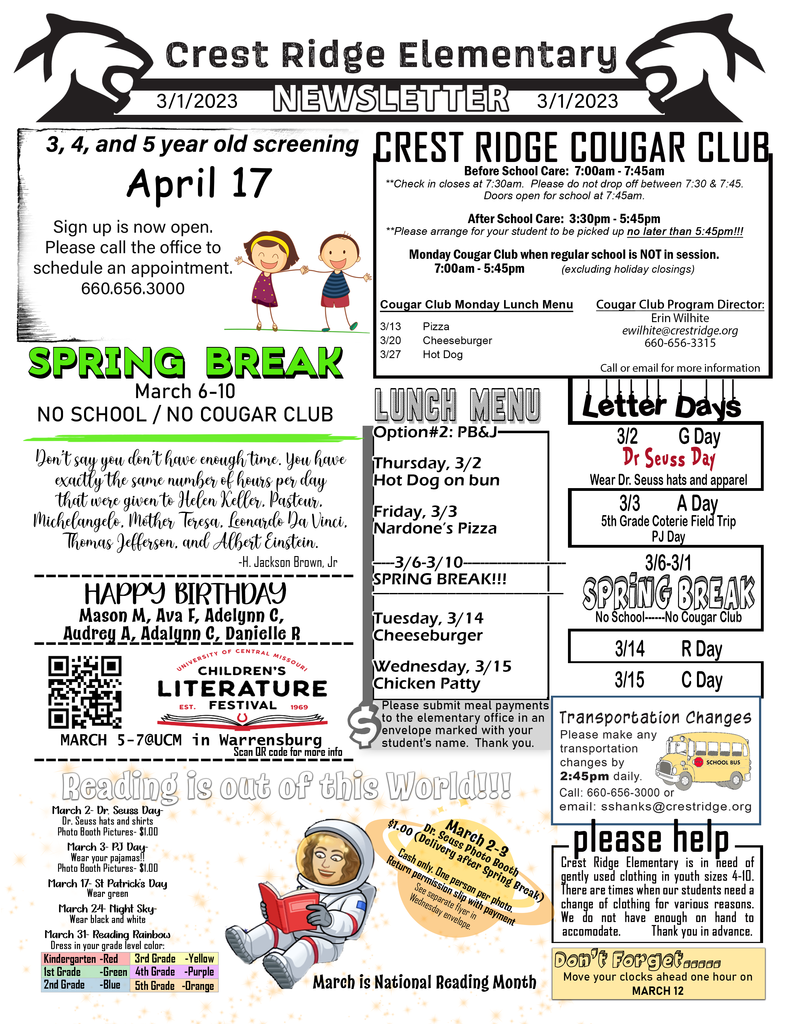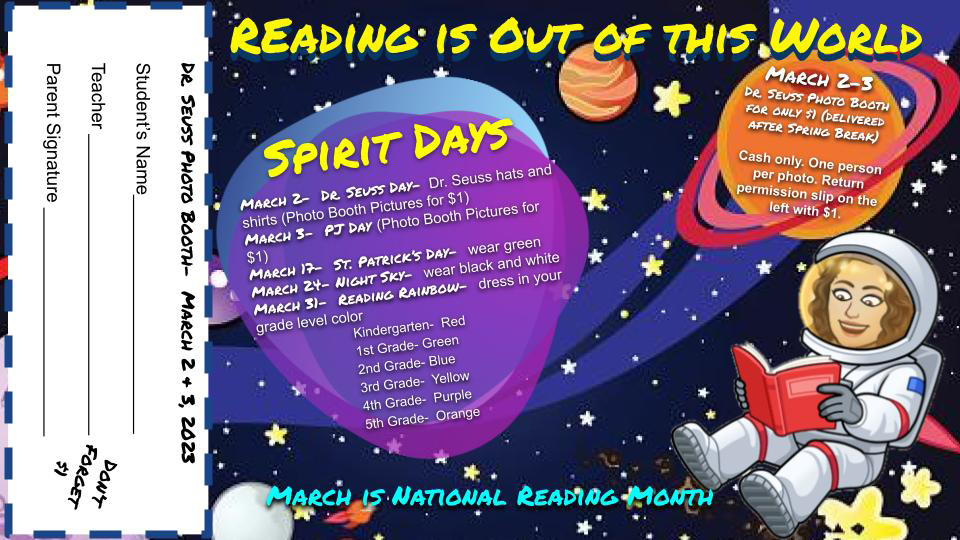 March is National Reading Month! Check out all of the fun ways CRE will celebrate our love of reading!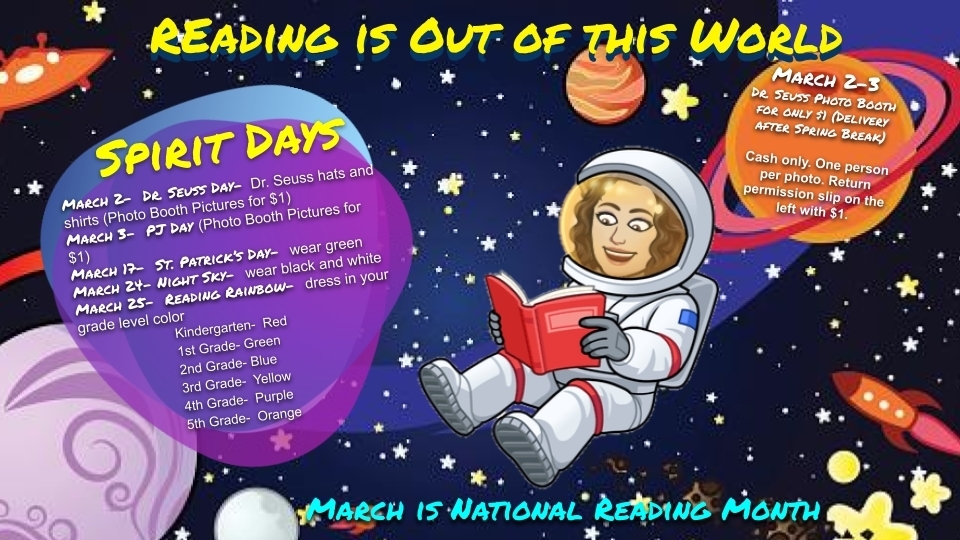 CRE Wednesday Newsletter Eat at Fazoli's tonight!! 4-7 pm. Parent and Child dance THIS FRIDAY, 7-9 pm.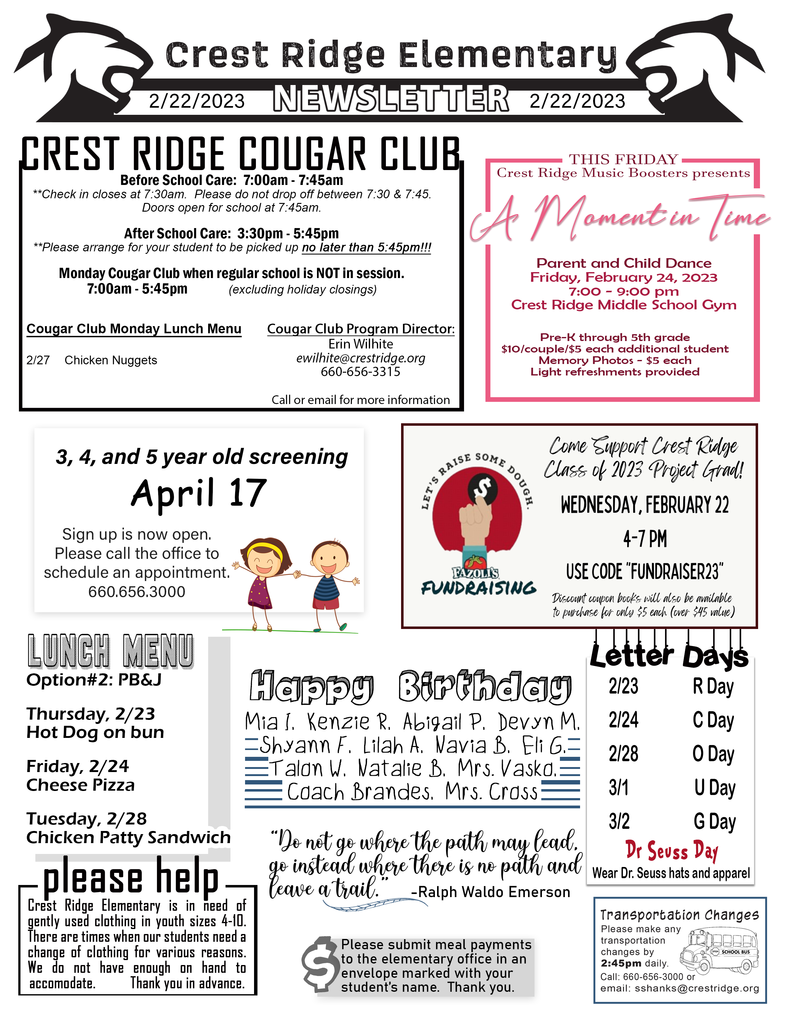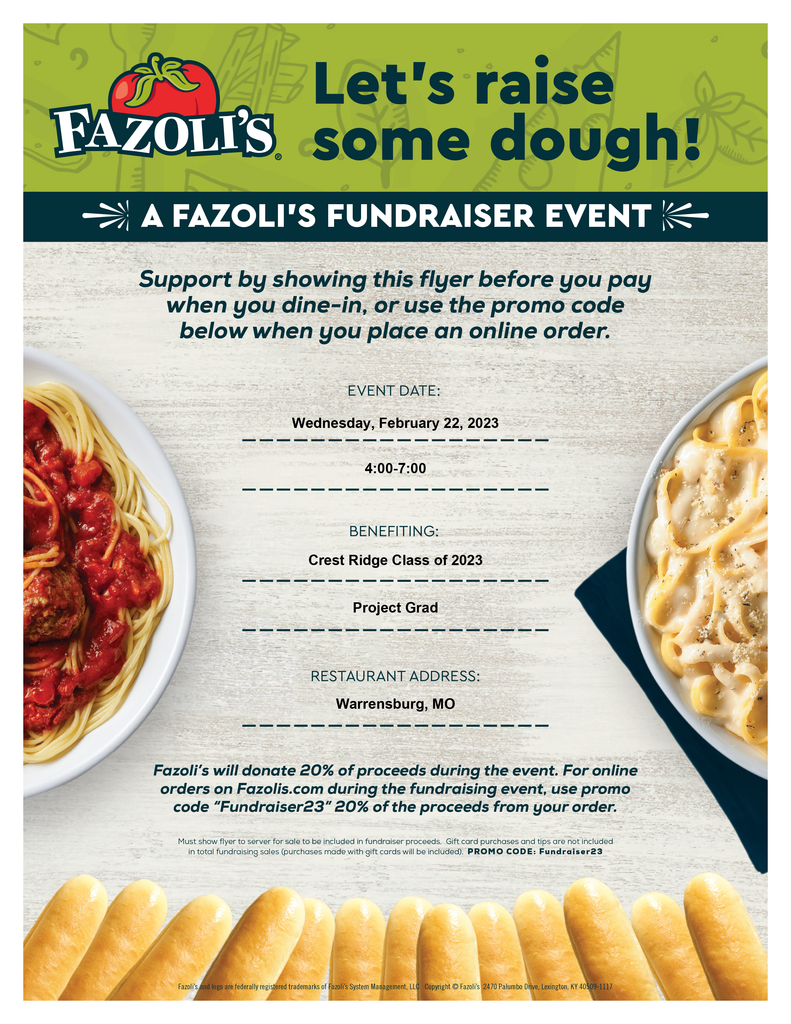 Join us at Fazoli's tomorrow from 4-7 to help support Class of 2023 Project Grad! We will also have Fazoli's Discount Coupon Books available for purchase for $5 each ($45 value)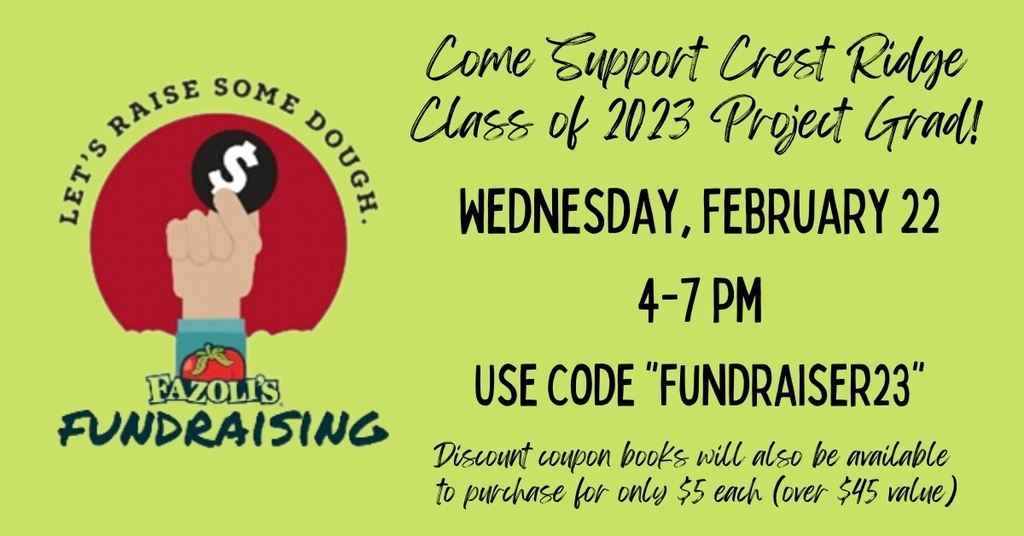 All District Basketball games both here at Crest Ridge and at Archie will be livestreamed on MSHSAATV.

District Basketball this week: MSHSAA gate prices $6 for everyone. Monday 2/20/23 8:30pm HS Boys at Archie ( The boys will play Midway) Tuesday 2/21/23 5:00pm HS Girls at Home (The girls will play Concordia) All tournament brackets can be found on the MSHSAA website
https://www.mshsaa.org/
Go to In Season Sports, select basketball, District tournament. We are Class 2 District 14.

CRE Weekly Newsletter, 2/16 No school, No Cougar Club: Monday, 2/20 Eat at Fazoli's, 2/22 3, 4, 5 yr old screening, 4/17. Call to sign up!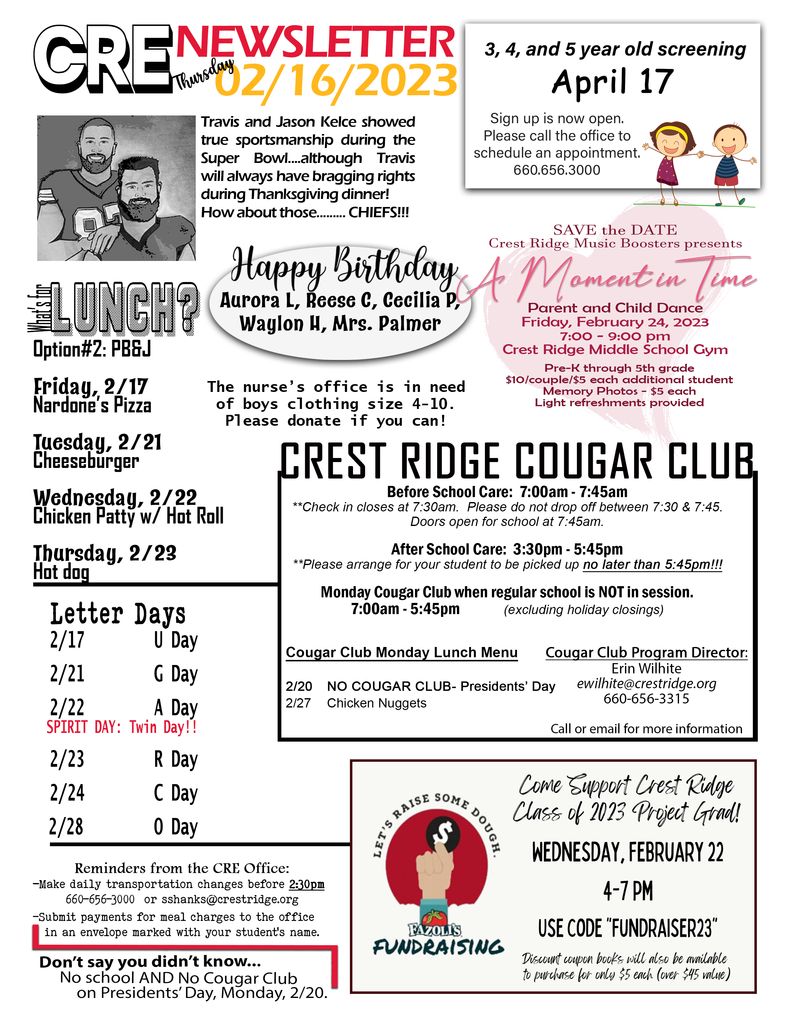 HS Baseball Parent Meeting Sunday 2/19 7:00pm

Spring Sports Informational parent meeting for JH and HS: Thursday 2/23 7:00pm in the HS Library. Be sure you have a current physical and all health information filled out and on the PRIVIT website. First Time:
http://5il.co/3l83
Returning:
http://5il.co/3l84
.

CR Patrons: we have been removing old library books to make space for new titles in the library. These weeded books will be available for free to any and all takers at tomorrow night's basketball game (2/16)