CR Boy's District Championship game 6pm tonight 2/25, $5 admission, masks are required. It will be streamed live on MSHSAA.tv. Let's go Cougars!

CRE Newsletter 2/24/2021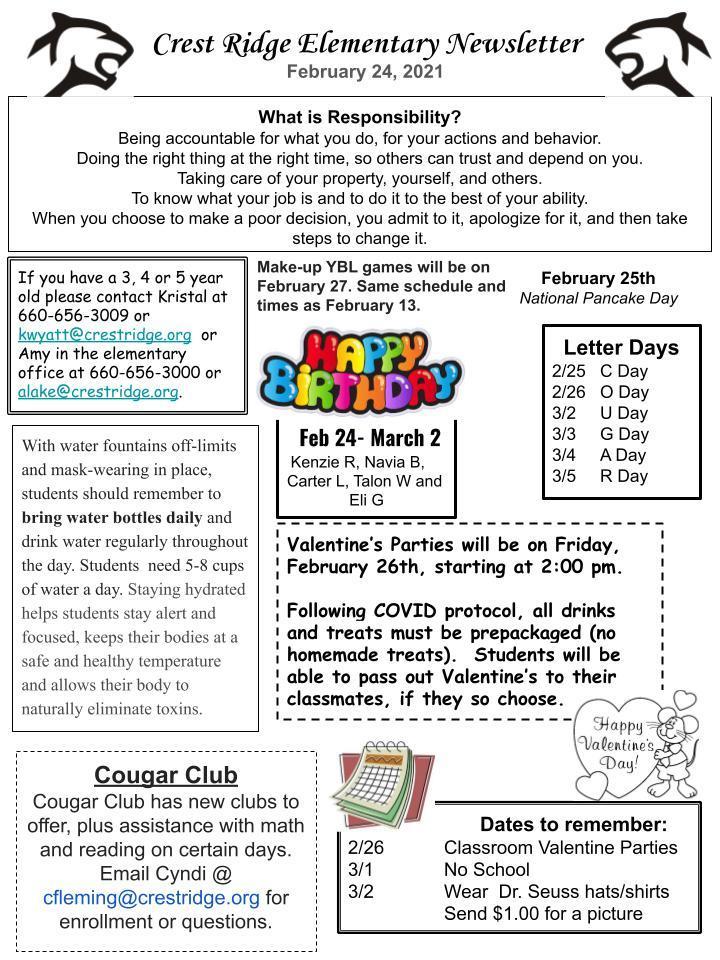 CRHS Boys Basketball 6:00pm tonight v Sweet Springs. Admission $5. Masks are required. Livestream: MSHSAA.TV cost is $10. Go Cougars!

CRHS District Basketball begins today at 4:00pm Crest Ridge Girls v Northland Christian. Admission is $5 for everyone and masks are required. If you cannot attend in person, you can catch the game on MSHSAA.tv just look up Crest Ridge v Northland the fee is $10. It's a great day to be a COUGAR!

Cougar Club introduces Football Club. Thursday mornings @ 7. 6th-11th grade boys. Students must be enrolled in Cougar Club prior to joining. See flyer for more details.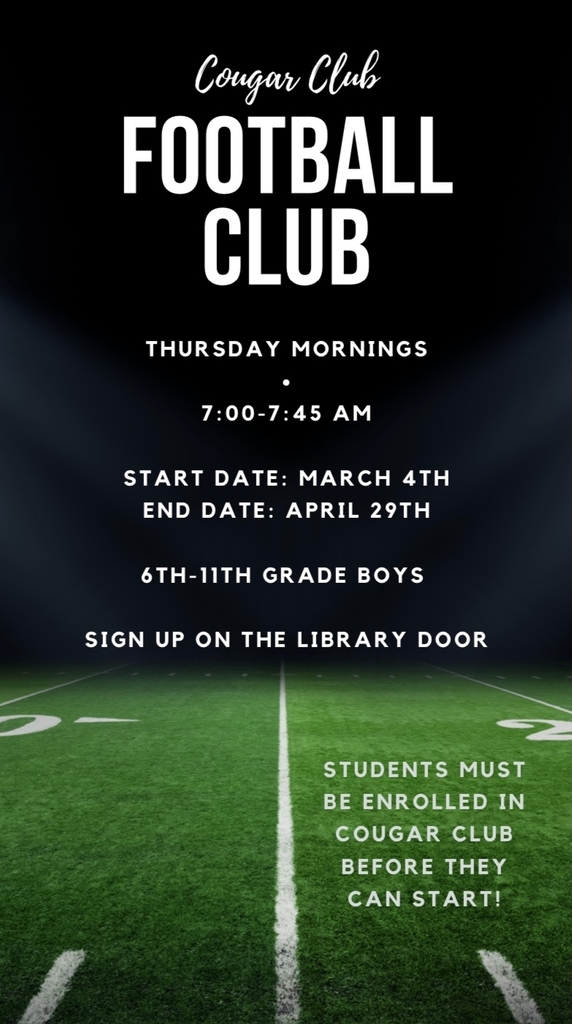 Dear CRE Families, CRE students will have classroom Valentine's Day parties on Friday, February 26, 2021 at 2 p.m. I apologize for any inconvenience this may have caused any families that brought treats for our students last week. We have missed the kiddos and can't wait to see them at school. Have a great night. Mrs. Swope

Crest Ridge HS: Tonight's basketball games v St. Paul have been canceled due to poor road conditions and refreezing concerns. All Courtwarming recognition will occur on Monday 2/22 following the boy's district game.

Crest Ridge Schools will be closed on Thursday, February 18th. This includes before and after school care.

Don't laugh too hard but Spring sports practices begin in a week and a half. March 1. Please be sure and go online to PRIVIT and make sure your student is signed up for the spring sport they are participating in and that their health information is current.

Crest Ridge will be closed on Wednesday, February 17th. This includes before and after school care.

Cougar Club Archery is back! Students in 4th-12th grade are eligible to participate. Students must be signed up in Cougar Club to participate in archery. Email
cfleming@crestridge.org
to sign up.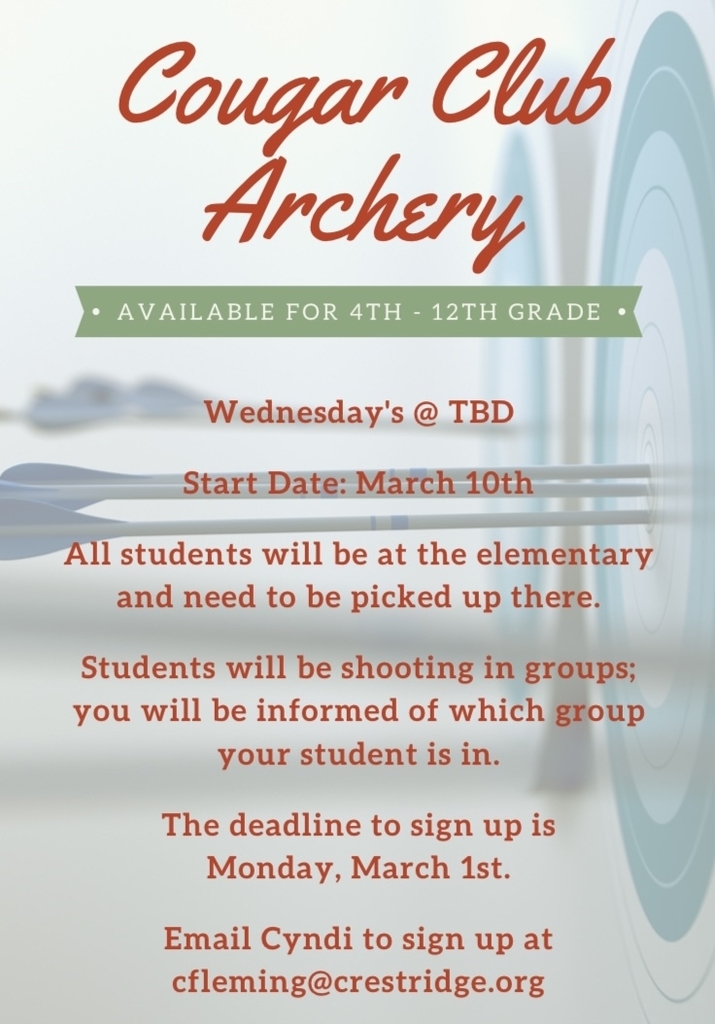 HS Basketball Tuesday 2/16 v Sweet Springs has been cancelled. Courtwarming has been postponed until Thursday 2/18.

Crest Ridge Schools will be closed on Tuesday, February 16th. This includes before and after school care.

All High School and Youth activities scheduled from 2/12/21-2/15/21 have been canceled. This includes HS basketball v Knob Noster, YBL games and all other practices. Stay home and stay safe.

Crest Ridge Schools will be closed on Friday, February 12th due to a wind chill advisory with wind chills between 10-20 below zero. This closing includes before and after school care. Stay safe, stay warm COUGARS!
Update on the Code needed to order group pictures from Interstate Studios that were taken last Wednesday, February 3.
www.inter-state.com/order
Code: 57360H

Old Man Winter Has Arrived! Please double check that your kiddos are snug as a bug in their winter coats!!! Stay Warm CRE Families!!!

2/10/21 CRE Newsletter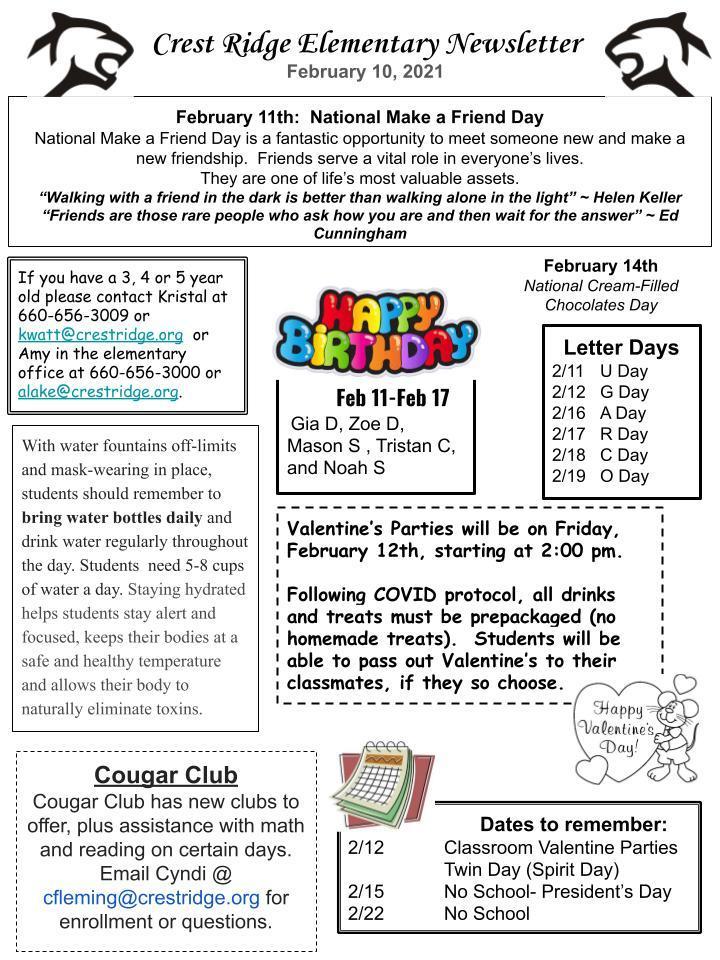 Congratulations to the following choir members on their selections into the West Central Missouri Music Educators All District Choir and Women's Choir. Left to Right: Abby Humphrey, Lilly Shippy, Emma McQuitty, Tatiana Bixler and Makaela Chugg. Not Pictured: Norna & Suzy Cooper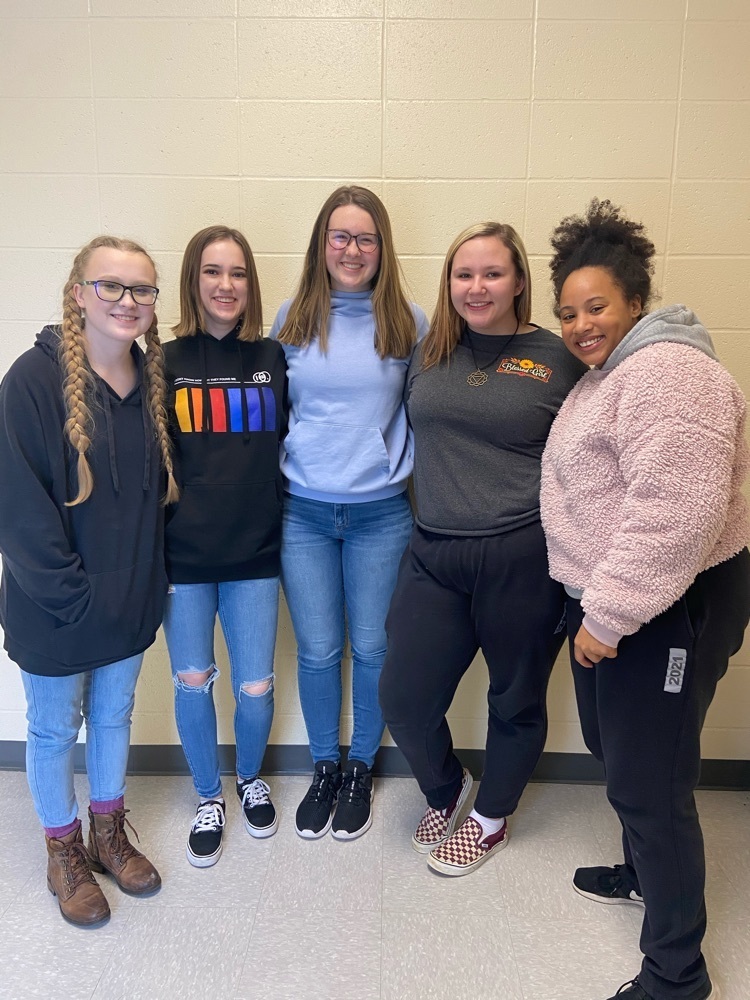 JV Girls BB @ Warrensburg for Thursday 2/11 has been cancelled.